Spring 2022  registration is now open!
OLLI is a unique learning community for adults age 50 years old or better. OLLI offers the very best continuing education with no tests and no grades. Distinguished SSU faculty and other Bay Area educators enjoy sharing their expertise with OLLI students, whose life experience and curiosity enrich the exchange of ideas.
OLLI at SSU, now in its 20th year, is one of over 100 Osher Lifelong Learning Institutes nationwide. The program is supported by OLLI student fees, donations, and the earnings on an initial endowment generously provided by the Bernard Osher Foundation. Joining OLLI at SSU means discovering new friends, new knowledge, and new ways to bring meaning and enjoyment to your life. Courses are taught in six week, three week, and single (2  hour) sessions (Fall, Winter, and Spring).  Summer single course offerings are also available.   Areas of study range across many subjects: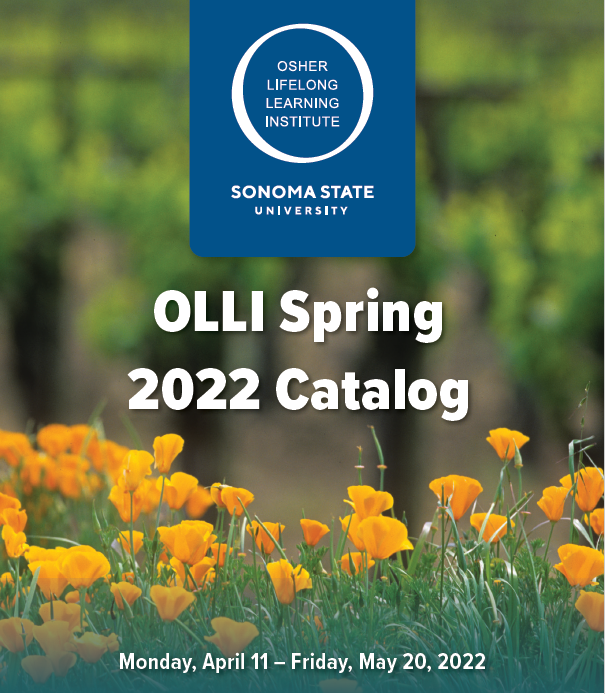 Registration is now open!
Arts
Contemporary Issues
Food & Wine
Natural Sciences
Social & Political History
World Cultures
Spring 2022
Online  & Phone Registration
Register online up until 5:00 p.m. two days before class at olli.sonoma.edu/registration
Register by phone up until 5:00 p.m. the day before the class: 707-664-2691 (8:00 a.m. – 5:00 p.m.).
ONLINE (ZOOM) classes: Registered students will receive email with class Zoom link the day before class starts.
IN PERSON classes: Registered students will receive an email the day before class starts with course location, directions, and parking information. There is a $5 daily parking fee at the SSU campus.
​Course materials are available at: olli.sonoma.edu/course-materials
NOTE!
SSU Requirements for Attending
IN PERSON classes:
OLLI students must wear masks inside all non-residential campus buildings.
OLLI students must do a wellness check the day of their visit to campus prior to coming to campus:​
CSU will require that SSU students, faculty, and staff be vaccinated for the fall term. You must certify full vaccinated status by no later than September 30, 2021.
SSU Covid-19 Policies and updates available at: https://covid19.sonoma.edu/
Online Class Participants
You will receive a Zoom link in an email the day before the start of each class you are registered for.  If your class starts on a Monday, you will receive your class Zoom link on Friday. Please contact us at 707-664-2691 or burrougg@sonoma.edu. if you have any problems accessing Zoom. Thank you.
New to Zoom?  Learn  how with the new OLLI "How To Zoom" video.