The Legacy Circle
The Osher Lifelong Learning Legacy Circle is comprised of a group of individuals who are dedicated to building long-term sustainability for the program's future. While each member continues to support the annual fundraising needs of the Institute, they also have accounted for the long-range needs of students by including the SSU Osher Lifelong Learning Institute in their estate plans. We gratefully thank the following individuals for their commitment to the program and its mission to bring a lifetime of learning to students of OLLI.
OLLI Legacy Circle Members
Anonymous Friend
Virginia Benson
Thomas Brunner
Mick and Robinanne Chantler
Claggett-Holland
JoAnn Cooney
Jule Grant
Jeanne Johnson
Bonnie Lasky
Shirley Lipton Brian Lloyd
Berkeley Malm
Steve and Joyce Pease
Harry and Linda Reade
Betty Riess
Janet Rosselle
Georgette Skellenger, Emeritus
Ed Stolman, Emeritus
Donating to OLLI
We want to recognize the 2020-2021 donors and friends of the Osher Lifelong Learning Institute at Sonoma State University.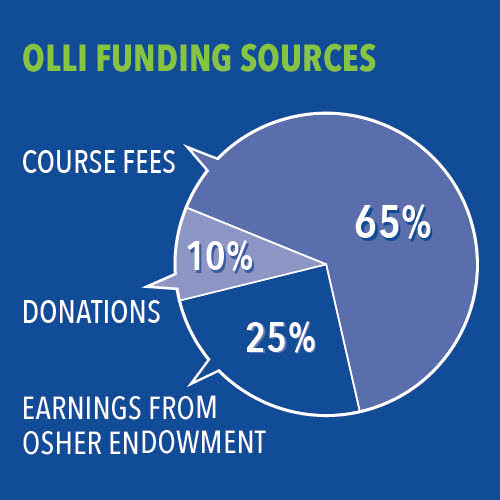 The Osher Lifelong Learning Institute is healthy and strong, but we survive because of the generosity of private donors. Currently, the Lifelong Learning Program must raise two-thirds of its funds from private sources; only one-third of the current budget comes from student tuition.
Until a mature lifelong learning endowment fund is generated to substitute the need for annual fundraising, the OLLI Program must raise operating revenue every year. Many donors and students have generously stepped forward to support the financial goals of the program, but annual fundraising is imperative to ensure its continuation and good work.
Your support of the SSU Osher Lifelong Learning Institute is greatly appreciated.
Ideas for Giving Back to Your Osher Lifelong Learning Institute
There are many ways to give back to your Osher Lifelong Learning Institute. In order to help sustain the program and ensure its future: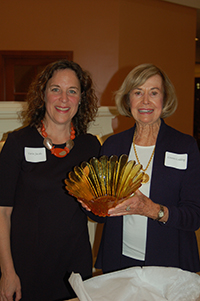 Consider a gift to the OLLI Annual Fund that will keep the good works of the program thriving each year and support scholarships.
Involve your clubs and service organizations in supporting OLLI by inviting one of our faculty to speak to your group.
Consider an endowed fund that lasts a lifetime. Creating an endowment in your name (or a loved one's name) is similar to placing funds in a savings account and providing the Institute with the interest from your gift. Your investment (or principal) is never expended, but the income from the gift is used to assure a lifetime of support for the program.
Help us outreach to businesses. Do your know of any businesses that would like to help sponsor OLLI classes and get their name in front of thousands of older adults in the county? Introduce us! 
Contribute to a student scholarship fund. The Lifelong Learning Program has been fortunate to receive generous scholarship commitments, and will always be in need of continued support.
Explore planned giving. Consider leaving a gift in your will or bequest, gifting through a charitable trust, a gift annuity, life insurance, pension plan, IRA, or through real estate.
Volunteer with OLLI. A gift of time is as valuable as a gift of treasure. Click the volunteer opportunities link for more information.
For more information on giving, please contact Adam Jarman, Director of Development, jarmana@sonoma.edu, phone: 707-664-4151.